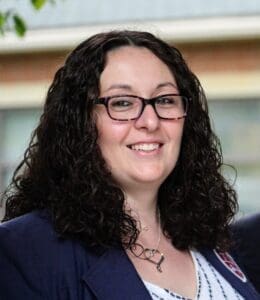 Welcome to 5th Grade at ICA!  
5th Grade is an exciting time in a child's educational journey.  They are making the transition between elementary and middle school and my goal is to make that transition seamless.  
Our day begins with a morning meeting.  It's a time to gather together for discussion and team-building activities.  Then it's off to our core curriculum! Religion focuses on the sacraments and the liturgy, with the highlight of the year:  The Living Stations. Science explores everything from volcanoes and hurricanes to biomes and energy. We engage in as many experiments as possible to bring science to life.  Social Studies takes a look at early American history from the natives to the Civil War. One highlight of our year is when students become Loyalists and Patriots and take part in key events of the Revolution!  Language Arts consists of spelling, vocabulary, grammar, and writing. We take part in a writing workshop to hone our writing skills and get individualized instruction. Reading takes us to new times and places as we take on novel studies to strengthen our reading skills.  When it comes to math, 5th Grade students have the opportunity to switch classes. They travel to Mrs. Bailey to learn more about fractions, decimals, geometry, and more!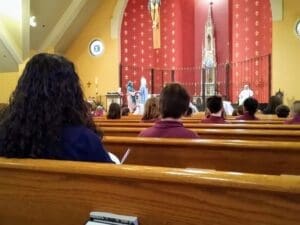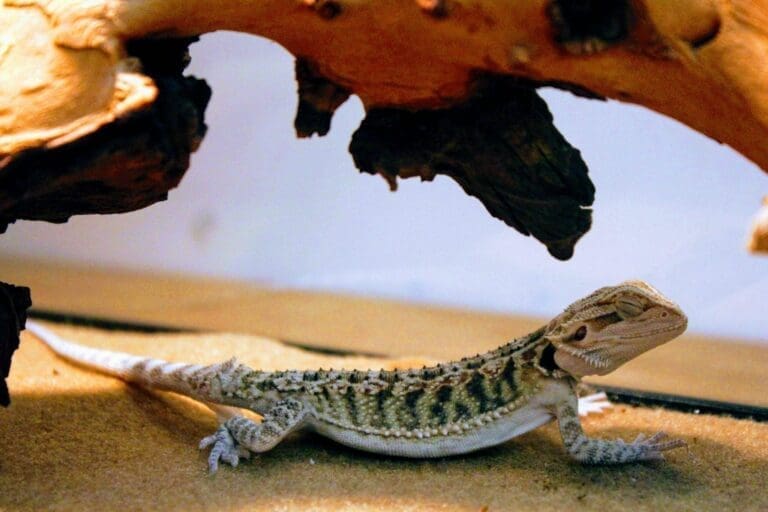 5th Grade is more than just hitting the books.  We play games to extend our learning and we utilize technology as much as possible.  We take field trips to further our understanding of local history and science. We are also hard at work on becoming responsible citizens.  We have classroom jobs and take care of our class pet, Draco. Our bearded dragon is 1 year old and loves to watch us during the day!
ICA offers our 5th Grade students a safe place to learn and grow.  It is a place where they can use their faith in all aspects of love, learning, and leadership.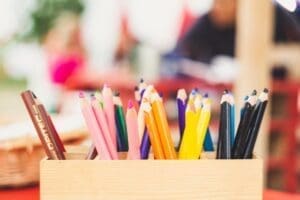 Looking to study for vocabulary?  Head to vocabularyworkshop.com to practice unit words with interactive games and activities.
Dear Parents/Guardians,
Welcome! Below is the school supply list for
the upcoming school year. Should you have any questions or concerns, please
feel free to contact me.
 Students who have all their supplies on the first day of school will receive a surprise!
Milk crate (check Staples and Wal-Mart for sales)
5 jumbo-sized book socks
1 small-sized book sock (eighth grade only)
Soft pencil case filled with the following:

Sharpened pencils (2 packs)
Black pens (Frixion erasable pens preferred)
Red pens
Highlighter (1 pack)
Dry erase markers (1 pack)
Ruler
Scissors
Small pack of colored pencils/ coloring supplies (Crayola preferred)
Glue stick
Rosary

1 Accordion file folder with at least eight pockets (see picture)
6 college ruled marble copy books

Black – ILA
Red – SS
Yellow – religion
Blue – math
Green – spelling
Purple – science (This will be provided by ICA.)

Index cards
Smock for art class
Sketchbook for art class
Clear contact paper to cover workbooks. Please do not send in.
Box of tissues
Roll of paper towels
Hand sanitizer and/or antibacterial wipes (These are greatly appreciated. Thank you!)
Milk crate (check Staples and Wal-Mart for sales)
5 jumbo-sized book socks
1 small-sized book sock (eighth grade only)
Soft pencil case filled with the following:

Sharpened pencils (2 packs)
Black pens (Frixion erasable pens preferred)
Red pens
Highlighter (1 pack)
Dry erase markers (1 pack)
Ruler
Scissors
Small pack of colored pencils/ coloring supplies (Crayola preferred)
Glue stick
Rosary

1 Accordion file folder with at least eight pockets (see picture)
6 college ruled marble copy books

Black – ILA
Red – SS
Yellow – religion
Blue – math
Green – spelling
Purple – science (This will be provided by ICA.)

Index cards
Smock for art class
Sketchbook for art class
Clear contact paper to cover workbooks. Please do not send in.
Box of tissues
Roll of paper towels
Hand sanitizer and/or antibacterial wipes (These are greatly appreciated. Thank you!)
Milk crate (check Staples and Wal-Mart for sales)
5 jumbo-sized book socks
1 small-sized book sock (eighth grade only)
Soft pencil case filled with the following:

Sharpened pencils (2 packs)
Black pens (Frixion erasable pens preferred)
Red pens
Highlighter (1 pack)
Dry erase markers (1 pack)
Ruler
Scissors
Small pack of colored pencils/ coloring supplies (Crayola preferred)
Glue stick
Rosary

1 Accordion file folder with at least eight pockets (see picture)
6 college ruled marble copy books

Black – ILA
Red – SS
Yellow – religion
Blue – math
Green – spelling
Purple – science (This will be provided by ICA.)

Index cards
Smock for art class
Sketchbook for art class
Clear contact paper to cover workbooks. Please do not send in.
Box of tissues
Roll of paper towels
Hand sanitizer and/or antibacterial wipes (These are greatly appreciated. Thank you!)